What is the opposite of STEM (Science, technology, engineering, math)? LASS, of course. While I read and think much on the STEM subjects, I study quite a bit on the LASS subjects as well. Here's dozens of links to things I have found interesting in the liberal arts and social sciences over the last year that you might as well:
Architecture: I was thinking about political architecture after someone on instagram started posting pictures of the Square Colosseum in Rome. While many remnants of 20th century fascism have been destroyed, some remains. This all led me to read good pieces like this, A Look Back at Fascist Architecture in Architectural Digest, and this, What happens to fascist architecture after fascism? – BBC Culture.
It's fine to think of architecture as something akin to art, as this piece on Canadian Architecture does. But architecture can often have a political component. You can see that here in this story on Sussex Drive, and here, on Anti homeless architecture. And of course in the architecture of fascists discussed above.
History: When it comes to history, at least on social media, there is much focus on WWII. Too much, in fact. It seems whenever bad things happen, the result is think pieces trying to tie whatever is happening with such events as Hitler's rise to power. People, and especially essay writers, need to read more history. Read about other wars from the first half of 20th century. Or the overall list of wars.
As for mr, I've been interested in the Austrian Empire for some time. More so since I found out that my paternal family did not come from Poland (as I thought) but Galicia, which was part of Austria-Hungary. They migrated to Canada while the empire was still a thing. That got me looking at maps of Galicia from that time, such as this Map of Austria Hungary during the post WWI breakup. (I love that Galicia has all these question marks in it…where will it go??)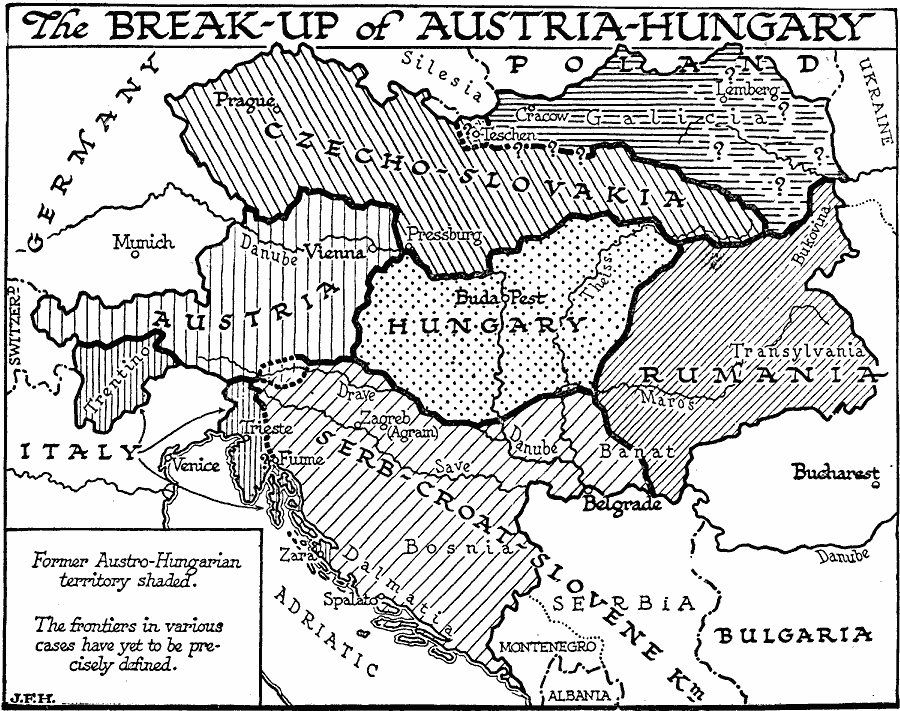 More such maps here, Austria Hungary 1914, and here: Austrian Empire, Italy, Turkey, in Europe Greece. – David Rumsey. More on the breakup, here: Empire breakup: states demanding independence – archive October 1918.
Other good historic pieces Ive recently read: Historical data is not a kitten it' a sabre-toothed tiger, and this: guide to economic historians.
Economics: It's hard not to think about economics these days, as we can't seem to get billionaires out of our face. It helps to have good references to think about it. I thought this was a good study on wealth, Where does the wealth go when asset prices go down? Speaking of the destruction of wealth, I got thinking about the Great Recession, and that got me thinking about the Big Short and all those players involved, like AIG. If you haven't seen the film or have but had a hard time with some of the concepts of it, I recommend this Cheat Sheet
Philosophy: This piece and this piece explore the controversy over whether the great philosopher David Hume was a racist. He certainly said racist things. My belief is we are still struggling with the shame of great thinkers also being terrible in parts. It's a shame.
Speaking of which, here is a good piece on shame. Here is a bad piece on the Merit of Meritocracy. This was a good piece on parental ethics. And here's a fun piece from McSweeney's on utilitarianism.
Religion: related to philosophy, here's something on philanthropy, ethics and Christianity.This explores the notion of whether you can have religion without belief. Here's two pieces on two different Christian groups, the Quakers and the the Jesuits.
This was fascinating: some Muslims are using digital gings to count recitations, as was this, a video on the Popes with the new cardinals.
Sociology: we have learned many practical lessons in sociology due to the pandemic. For example, this piece argues that Covid policies show many people in prison are no danger to the public. I tend to agree. Excessive incarceration is a problem everywhere, but especially in the US. I think about it often, so I read pieces like this, and this Biden Can Bring Hope to Prisons Like Mine, this Albert Woodfox held in solitary confinement for 43 years dies aged 75, and this My Top 10 Tips for Doing Time In "the Hole".
Preventing people from moving is one of the great difficulties all societies deal with. I have been thinking a lot of migration. So does the right, with their Great Replacement theory. This piece examines this: The great replacement is real but its not what the Right says. Indeed, the movement of people have been shaping societies for a long time. Case in point: Migration not conquest drove Anglo-Saxon takeover of England | Science. Reading this, Invasive species, I wonder if it is a fundamental difficulty.
Misc: I enjoyed this on Umberto Eco's anti-library. (See below) Also this, on the cost studying LASS brings.