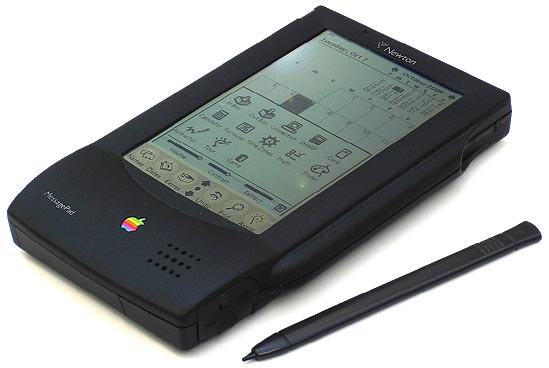 For people in this time, it's may be hard to imagine Apple as anything other than a tremendously successful company. But in the 90s, it was the opposite. Under John Sculley and others, it was a company in major decline and all but at death's door before Steve Jobs came back.
In some ways the Newton you see above was emblematic of that time. It was a device that Apple tried to use to regain the magic that it once had. It failed, but in some ways it was a glorious failure. (The Powerbook also came out at that time and it was a fine machine but the problems of Apple were baked into it.)
I've always had a fondness for the Newton, and wanted one for a long time, even though I could not justify getting one. And then Jobs returned and tossed it in the bin like so much crumpled paper. It was a smart decision, but a sad one for me.
That's why I was really interested to read this recently: The Newton at 30. It's a great rundown on that device. Reading it, I was happy to see that some of the original ideas found in the Newton later made their way into other mobile products from Apple. Good ideas deserve a home, even if they were never going to find that home in the Newton.
In the 90s I had a small role in developing IBM software that ran on Macs and that allowed our customers to access our IBM Global Network via a Mac. I loved building Apple Software, even if it was a nightmare at times. (Writing software for a rapidly declining company is no easy thing.) At the time I got to work on the Powerbook 1400 and 3400 and hang out at Apple and play around with the emate 300. It was a good time despite the difficulty. I never got a Newton then, thought I got close.
Later in the second decade of the 21st century I finally got to buy my own Newton! Mint condition, from Kijiji. 100+ bucks! Funny, a device that was so cutting edge when it first came out seems so limited now! It was a good reminder how fast technology moves. I was still glad to have it. It's a wonderfully collectable device.
For more on the Newton, click that link.
Happy Anniversary, Newton. You were truly ahead by a century.