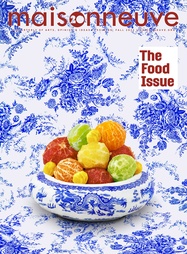 Good genre writing tends to make us forget it belongs to a genre. Atwood and Kafka and Borges all can write in the genres of SF and fantasy, but we don't think of them as genre writers. They are good writers who happen to (sometimes) write genre fiction.
I thought of that when I read this piece by Chantal Braganza in Maisonneuve: An Ugly Sweet Thing. Food writing is also a genre, and while Braganza is a food writer here, she is first a good writer who in this case is writing about food. It's a really fine piece and I encourage you to read it. It's about food, of course, but it's about so much more. That's what good food writing does.
Food writing gets knocked about these days, and that's too bad. So many food writers that include a recipe in their writing have a button at the top that allows people to skip just to the recipe. People who click on that button are missing out. The writing is important too, not just the recipe. If you just want a recipe, go to AllRecipes.com. If you want to learn more about food and what the author thinks about this particular dish and why it is important to them and perhaps you, too, read the writing. You'll be glad you did.
More and more I buy food books not for the recipes, but to get inspired to cook and to create in the kitchen. Preparing food is work, and some times that work gets us down. (Ok, it gets me down.) We need things to lift us up. One of those things is good food writing. Here's to more of it.
Now go get some cake.