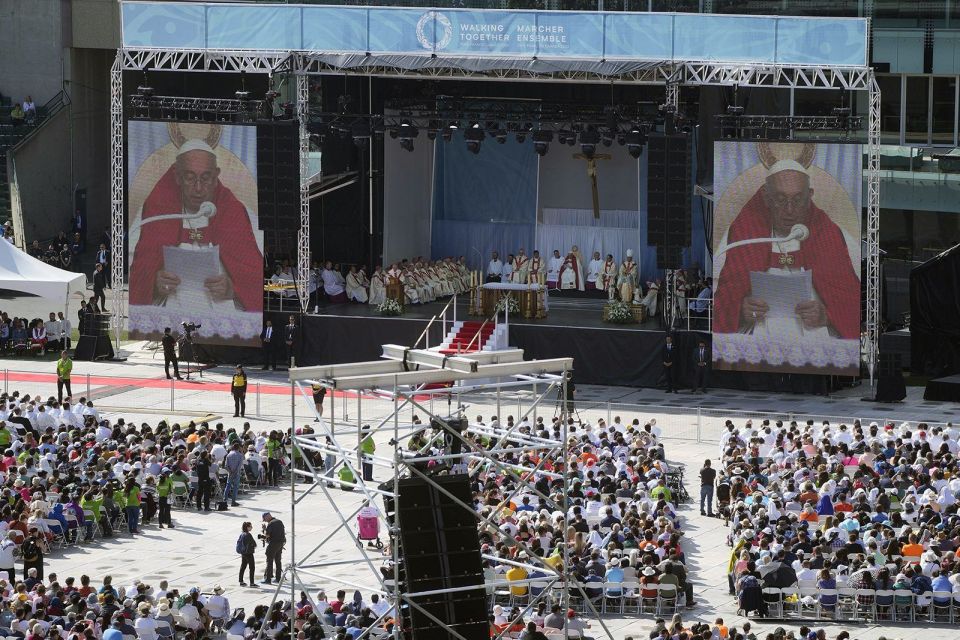 The Pope was recently in Canada to apologize for the role of the Catholic Church in the residential school system and the suffering that was inflicted on indigenous people within Canada. Here's the NYTimes on the visit. Here's NCR online. Even our Prime Minister weighed in.
When it was over, we got follow up stories from the NYTimes, from America Magazine and from NCR online, each assessing the visit, as well as highlighting statements like: Pope Francis Calling the Abuse of Indigenous People in Canada a "Genocide".
Overall, many seemed unsatisfied with it, as you can see from this piece, Why Pope Francis' Canada school apology isn't enough, and this piece, 'Indigenous representatives had no voice' at Quebec City Papal event. Even during the events, some indigenous people expressed their negative feelings towards it all, as this story showed, 'I couldn't stay silent ' says Cree singer who performed powerful message. It didn't help that some bishops seemed to be raising money from it. Even prominent Catholics did not see it as a success, though for different reasons than indigenous people did: 3 views on pope's visit to Canada.
During the time he was in Canada, there was much focus on certain Papal Bulls from the 15th century. It came up in this tweet from cblackst. At first I could not figure out why this was an issue. I was ignorant to the fact that indigenous people have been demanding revocation of the 1493 papal bull since at least the year 2000. As far as some Catholics are concerned, the Catholic doctrine of discovery is already null and void.
I am not sure what revoking it would accomplish. Papal Bulls are weird documents. During times of good popes, they could be good. During bad popes, they could be evil. Anti-semitism drives many of them. If you want to read more on them, here's some links that could be helpful: Papal Bulls – Doctrine of Discovery, and Dum Diversas – Doctrine of Discovery, and finally, Sublimus Dei On the Enslavement and Evangelization of Indians.
While the Papal Bulls got a lot of focus, what seemed to get less focus was money that the church had pledged but failed to deliver. The church failed to provide $25 million in compensation for the victims of residential schools, as this story showed. Despite claiming they could not raise the money for their sins, the Church did manage to raise much more than that amount for their properties. It was maddening to me that the media did not focus enough on that. (Later on they did report on a deal the government made freeing Catholic entities from $25M campaign for residential schools. You can read about that here and here. That would have been useful to know about before the visit.)
I had hoped for more from the Pope, the Church, the media, even activists. I hope at least the victims of the residential school system benefited from the visit and the actions of the Pope.
On a different topic, one thing I think everyone will benefit from is the appointment of Michelle O'Bonsawin to Canada's Supreme Court. We need more indigenous leadership in the justice system, and she is in one of the key roles to provide that. You can read more about that here and here.
Finally, this New York Times interactive study on Benjamin West's painting on the death of General Wolfe is relevant in many ways to the topic of this post. I recommend you check it out.
(Image: link to an image from one of the NCR Online pieces)