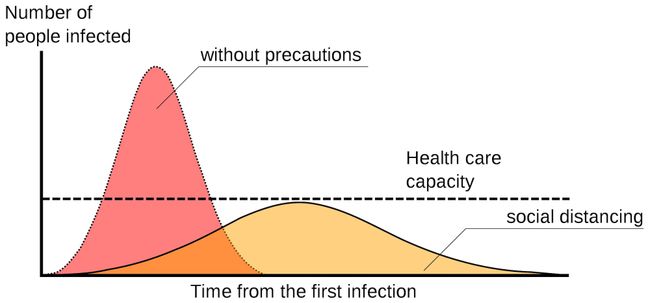 Chances are you've seen this chart: it's strongly related to the justification for all the dramatic changes that have been happening. Now there's some counterarguments that it will not work: Squashing the curve? | plus.maths.org
First off, the chart is a model, and like all models, it makes assumptions. For COVID-19, the first  assumption it makes is that the outbreak will rise and then drop off. I am not sure this is true, and I don't know if anyone else is certain either. There are good reasons to make this assumption, but certainty will come later.
Another big assumption this chart makes is that social distancing will bring the cases down so that there is enough health care capacity to handle it. I think social distancing will bring things down, but the health care capacity could still be overwhelmed.
Is social distancing useless then? I think that is the wrong question, and the wrong way of thinking about things. So how should you think about things?
First: think skeptically. I would say you should keep an open mind but be skeptical about information on the Internet. Things are changing all the time, and there is so much we don't know. Be doubtful of anyone with strong certainty about this.
Second: think optimistically. My thinking was pessimistic before, but I think I am changing to being optimistic about how we deal with the disease. There are lots of positive signs out there and there are many people working to get more resources thrown at this.  It will make a difference.
Third: think maximally.  Continue to wash yourself with soap often. Continue to practice social / physical distance. Continue to do anything that a recognized authority says will help. More action is better than little or no action. Some action may be no better than eating chicken soup, but you don't know. Just make sure you are following a recognized authority.
Fourth: think practically. You have to make tradeoffs. Some people have to travel outside to get to work or get groceries.  Try to minimize them. But don't beat yourself up either. Do the best you can. Be cautious, but don't panic.
Fifth: think and act healthy. The better you take care of your health, the better off you will be. There are other ways to get sick besides COVID-19 that could also land you in the healthcare system. That won't help.