Yikes! Another too many months have slipped by since I last did one of these. October, February and now May has passed! I have a ton of good recipes and food links to share, so let's get at it! 🙂
Beef: grilling season will be upon us, and smash burgers are all the rage, so make some advice on how to make those. Perhaps you prefer a steak? Here's how to Reverse Sear Steak to get THE best result. If you just want a bit of beef, try these Garlic-Butter Steak Bites or this, Easy Beef Cube Steak With Onions and Mushrooms. If you prefer something fancy, go for this, Beef Wellington Recipe or Ossobuco alla Milanese Recipe/. Love them!
Pork: prefer pork? Then how about this recipe for juicy pork chops or this one for spinach mushroom pork chops? Pork Chops with Sherry Pan Sauce with Ras Al Hanout sounds exceptional. Pork schnitzel is also great. Here's two recipes: Pork Schnitzel with Warm Potato Salad Recipe and this one.
There are so many ways to enjoy pork, from Grilled Korean-Style Short Ribs to 11 Best Pork Shoulder Recipes. Or just make bacon. Anyway you like it, pork is perfect.
Chicken: how about the other white meat? Here's how to make exceptional grilled chicken from smitten kitchen. For something a bit spicy, try Chicken Thighs with Burst Tomatoes Harissa and Feta or Nigella's Slow-Cooker Moroccan Chicken Stew. You can't go wrong with Chicken Piccata or this pairing of Chicken Cutlets & Roasted Asparagus. Chicken Quesadillas? Why yes. Or for something you likely haven't made yet but should, do this, Poul Nan Sos (Haitian Chicken in Sauce, seen below).
Soup/Salad: Let's move on to something lighter still, but still tasty. Basque Garlic Soup and Healing Garlic Tonic Soup can both meet that criteria. As can Zuppa Toscana. Go here if you want to learn How to Make Better Soups in general.
Pair up those soups with Roasted Citrus Beet Salad with Goat Cheese or Arugula Salad with Pears and Goat Cheese or the famous Jennifer Aniston salad.
Here's some more salad goodness from Food and Wine: Yogurt Salad Dressing Recipes and You're Not Adding Enough Vinegar to Your Vinaigrette.
One pot/sheet pan/slow cook: these are three ways I love to cook. For example, one pot Greek Turkey and Rice Skillet and One pot puttanesca are both good. As for sheet pan recipes, try Sheet Pan Breakfast, Easy Sheet Pan Beef Skirt Steak Fajitas Recipe, Sheet Pan Roasted Vegetables and Chickpeas Bowl Recipe, Sheet Pan Italian Sausage Bean And Tomato Tray Bake, or Sheet Pan Chicken with Sweet Potatoes and Arugula.
Slow cookers are actually great when the weather gets warm. Try these out: Slow-Cooker Coffee-Braised Brisket With Potatoes and Carrot, Slow-Cooker Tuscan Pot Roast Recipe, Sweet and Spicy Asian Pork Shoulder, Slow-Cooker Asian Short Ribs, 4-Ingredient Slow Cooker Cola Chicken, or finally Lazy Crock Pot Chicken With Mushrooms.
Casseroles/dump dinners: I've been on a kick to make dinners easier, so I've been trying making more casseroles and other easy dishes. Here's what I found: 6 Easy Steps to a Customizable Casserole by Mark Bittman, Sauces vs. Soups for Casseroles, French onion macaroni and cheese recipe, Easy one-pan lasagna recipe, and Modern Tuna Casserole. Related, here are the Easiest-Ever Dump Dinners and Chicken Tortilla Dump Dinner.
Cuisines (French, English, Eastern Europe, India): if you find yourself in the mood for something in particular, try these ideas from France: Pate en croute, How to Make Terrine Easy and Simply or La Buvette Terrine. Two sources of UK dining are roast dinners in the UK and UK food. From Eastern Europe, we have Pierogi Ruskie: Potato-Cheese Pierogi, Polish Potato Pancakes (Placki Ziemniaczane), Goulash and Eastern European Main Dish Recipes. Last but not least, Green-Lentil Curry Recipe from the great Madhur Jaffrey.
Sauces: here's some sauces I like: Peruvian Green Sauce Recipe, Simple and Delicious Homemade Brown Gravy, Aioli, and Garlic Sage Brown Butter Sauce.
Pastry: If you want something sweet, try chocolate puddle cakes, Fast Easy Simple Everyday Basic Biscuits, Apple and walnut crumble, or Jumbleberry Crumble also look good.
In addition: none of these fell into a proper category but all are worthwhile, including this recipe for Roasted Red Pepper and Feta Frittata, Lamb Loin Chops with Red Wine Pan Sauce with Cumin and Chiles, and homemade merguez with herby yogurt.
Finally: Here's some pantry ideas, plus these 31 Underrated Pantry Staples Every Home Cook Should Have. Here's how to Convert a 9×13 Recipe to 8×8. . Here's why ultra-processed foods have a calorie problem. Here's 31 Underrated Pantry Staples Every Home Cook Should Have. Here's The 20 Recipes BA Readers Love the Most. Here's a list 51 Valentine's Dinner Ideas for Romantic Rendezvous and Date Nights at Home. A good piece on Good cheap food. . If you want to know the What's the Difference Between Pastrami & Corned Beef? click there. If you need to know how to light a Charcoal Grill click there. This is a list of things to move out your fridge. This is a fine piece on why Appalachia Doesn't Need Saving It Needs Respect in terms of food. For fans of Summerlicious 2022. More pantry ideas . (I should have grouped these.) On the indispensable rotisserie chickens. On The Michelin controversy in Toronto. How to Fry an Egg…Good advice. Also good advice: Cook well spend less. This was thought provoking: Who killed the great British curry house? This was fascinating: Michelangelo's shopping List. If you want: Dry-Age Your Meats at Home. Once the Bon Appetit test kitchen was flying high. Now we have people writing pieces on how their staff (Brad Leone) are causing people to get food poisoning. Here's a piece on the creator of fish and chips. Here's how to make a Toronto cocktail.
Allright: let's go grocery shopping! (That's Michelangelo's list below.)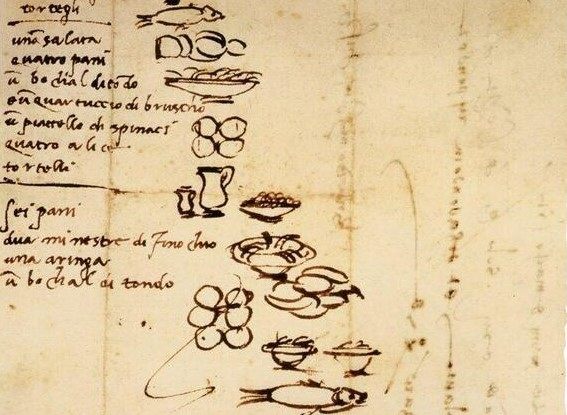 (Top image: theculinarycook.com. Bottom from Atlas Obscura)