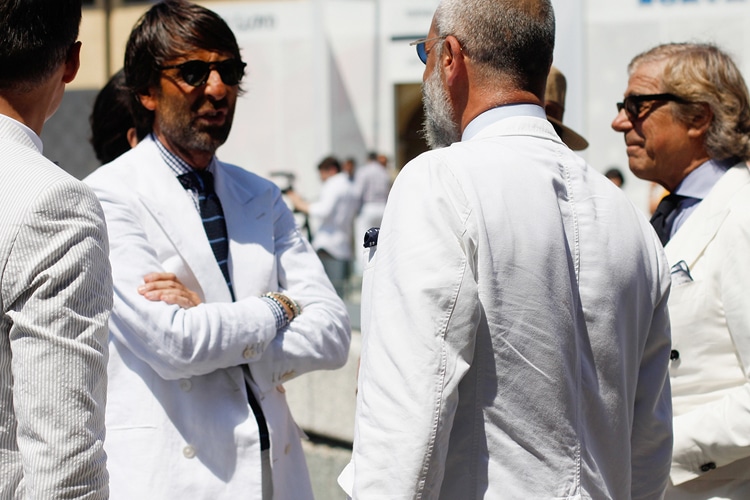 There are three good suits you can wear in the summer: cotton, linen and seersucker.
Seersucker is lightweight and doesn't wrinkle easily, but it tends to be limited in terms of colour options. (The one on the left in the photo above looks good though). If you have to wear suits in the hotter months, having a seersucker suit will help you get through them.
Cotton is also lightweight and can come in a wider range of colours than seerksucker.  However cotton wrinkles. Alot. Really it is a dry cleaners dream. It looks great well pressed, but after a few minutes it looks wrinkled and disheveled.
That's why I like linen: it looks great pressed, and it looks great wrinkled. Plus it comes in lots of colours and cuts. Hands down it is the best looking of the three types of summer suits and it has been for some time. I had a black linen suit from Hugo Boss and even in the heat I could wear it and feel comfortable.
That's why you should ignore the Guardian when it talks about how the loose linen suit became retirement wear. They use Boris Johnson wearing linen as an example of why (younger) men should not. I mean, please. The other comparison point is Brad Pitt who wisely decided to promote his new film in the hotter months by suiting up in linen. A smart choice. (Also note the style of Pitt: draw string pants, loose necklines, casual shoes….all good looks to steal.)
It would be a shame if men, especially young men, gave up wearing linen suits. They are extremely versatile in terms of cuts, colours and styles. They are supremely comfortable. You can wear them to a wedding and you can wear them to a show. You can wear them in the city and you can wear them in the country.
Need more convincing? See the site Man of Many, which has good tips on wearing a linen suit. Stay cool, stay stylish, get linen.