Well well well, it's the last month of 2020, and my last not-really-a-newsletter newsletter! I appreciate you taking a moment to read my latest not-a-newsletter of highlights and ramblings since the one in November.
I'm not sure if I will continue these here and in this format in the new year. Let's see. Something for me to consider as the year closes. But for now, here's things I've been thinking on since the last one:
Pandemic: It's hard not to think about the pandemic. Since November, the pandemic has only gotten worse in many places. My town and province is no exception. Cases are up, deaths are up, efforts to flatten the curve seem to be going nowhere. My son's school was shut down then the rest of the schools were shut down. As for leadership, it seems very reactive these days. A good analysis of that is here: With the pandemic surging, we need more leadership and less urging – The Globe and Mail. Also this piece: Why Doug Ford is stumbling during COVID-19's second wave? Too often governments thought they could somehow manage the disease and open the economy. They couldn't.
One of the reason deal with COVID has been so frustrating is well captured in this image: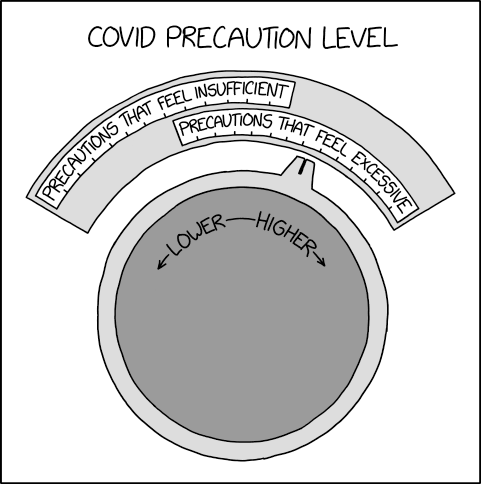 Governments everywhere keep fiddling with the dial as if to find the right setting, and then find there is none. (Image from xkcd: Covid Precaution Level)
Some places have managed better than others, but even there it has not been perfect. Not long after this came out,  Living in Nova Scotia's Covid-Free World – The New York Times, they had an outbreak in cases. Nova Scotia is still doing very well, but it is hard to stay perfect. (I'm looking at you New Zealand.)
Besides the health costs, there are the economic costs of the pandemic too. Articles like this come out every month in Toronto: Toronto rent prices are down 15% since last year at this time. Since that one, the rents have dropped to 20%. Meanwhile, places like The Gap are calling it quits in parts of the city: The Gap is closing its flagship store in Toronto
It may be a sad reality that many of storefronts will be boarded up  when the pandemic is over. Indeed, many are boarded up now.
And it will be over, this awful time. Vaccines are rolling out now. Here are places you can use to track it:
In the meantime, stay safe and try to stay healthy this winter. If you are in Toronto, consider this:  A New Way to Play: Recreation During COVID-19 – City of Toronto
Non-pandemic items:
The US: This newsletter is not just about the pandemic. It's also time to send out a big Bronx cheer to the current president of the United States. I often argued that he was not the worst president in American history. I am wavering in that belief. Just the number of unnecessary deaths resulting from his inaction make him truly terrible. As we lift up the rock and uncover more about him, I think he will only seem worse. Meanwhile, here's a good piece on his ending: Trump's Final Days of Rage and Denial – The New York Times.
I would settle for Biden just being not-Trump. But he has a chance to do more. I hope he will. Here's one way he could do it: Biden transition: How he could act fast and outrun Republican opposition to his presidency – Vox
The economy: One thing we are doing to hear a lot about is the deficits and debts now. This is not the time to do that. There is still much needs to be done for the world to recover. Not only that, but interest rates for some nations are essentially negative. See this for details: China Borrows at Negative Rates for the First Time – WSJ
One group in Canada you might hear banging on about the debt is the Fraser Institute. So here's a reminder from PressProgress: pay no attention to anything the Fraser Institute says. Even if you are a right winger, at least find some source that doesn't manipulate the facts.
Newsletters: they have become old hat now. So much so I think I will not comment on them any more. I would like to highlight one last one, though.  David Lebovitz has moved to Substack. Here is his.. He also has a great blog. He's been an excellent user of social media for some time (not to mention a fine cook and author). Go check him out. Meanwhile, for anyone tired of turning bananas into banana bread, check out this: Banana and Chocolate Chip Upside Down Cake (Lowfat) – David Lebovitz
My blog: ICYMI, I wrote earlier on this blog about friluftsliv (a concept you should know), Ikea,  cardigans and why they are great, Betty Godwin and why she is great, various cocktails (and why you should drink them), as well as being moderately gifted,  being good  and being Paul McCartney.
Thanks for reading this, as well as anything else on my blog. I always appreciate it.
And for those celebrating it: