Hey! Thanks again for reading this, my latest not-a-newsletter of highlights and ramblings since the one in August. I had a long list of things to post here, but I cannot seem to find them. Augh. Oh well.
Newsletters: a few newsletters ago they were all shiny and new. Now they have these become old hat. Almost. It seems like more and more people are jumping on the bandwagon. I've realized reading them now that they are a harder thing to write than most people think. The people most successful seem to have a voice and a formula/structure. If you have a formula or structure, your newsletter will hold up even on week publishing days. If you do not, it's likely harder to maintain a base level of consistency. From what I have witnessed.
Favorite newsletters: No new ones since my last newsletter.
Pandemic update: in Canada we seem to be heading back down to the bad times, after making such good progress. I am not surprised. I think people are breaking down and thinking "oh what's a little socializing going to do?" and the next thing you know we are back where we were months ago.
As well, schools are back: this will have an effect somehow. We will know in a few weeks.
Meanwhile I am trying to be as normal as I can and trying to get out when I can, knowing that I might not be able to in a few weeks if things spiral out of control.
Restaurants: I am not sure what will happen with restaurants if there is another form of lockdown. Many have closed, and I have to believe that the ones that haven't are barely getting by. If this goes on for an extended period of time, I can't imagine there being that many restaurants as we know them being around.
Other venues: other than restaurants, I wonder about other venues where people gather in large numbers. Most theatres are not doing well, and Hollywood's hope of bringing in people with films like TENET do not seemed to have worked. As well, more studios are putting off films that should have been out awhile ago. I think they are delaying in hopes of something that will not happen.
I almost went to see TENET. I am a big fan of Nolan's film and how he plays with time. But I can wait and see this at home.
Cooking: While I am trying to get out more to restaurants, I am still doing a lot of cooking at home. To be honest, it is often tiring. To reduce the workload, I am trying to cook more one pot meals. One pot meals result in less clean up afterwards.  Plus they tend to be less labour. If you find you are cleaning up too much, try one pot meals. I found this book really good for one pot meals. I also go to Budget Bytes and type in "one pot" in the search menu and get quite a few that way.
I've also found I eat more repetitively. I will go days eating the same breakfast and lunch. It just save time thinking about it.
Autumn/the New Year: As far as I am concerned, the day after Labour Day is the start of the New Year and the start of Autumn. I know fans of Summer hate that idea. Fans of Summer want you to know that Summer ends the 21st of September, not Labour Day. It's true, it does. And it's true, there are some very warm days in September. But I love Autumn and I am glad to pack Summer away and get on with it.
I love Autumn because I associate it with the new and transition. The start of school. The start of harvest and wonderful colour. Of mild weather. I love Autumn because I associate it with good change. Autumn is dynamic. Autumn is where we start again, move ahead, make progress. It's the best season. A season so good we gave it two names.
Finally..
John Turner passed away this weekend. RIP. I still think this is one of the best photos of Canadian politicians ever. I sometimes wonder if Quentin Tarantino ever saw it.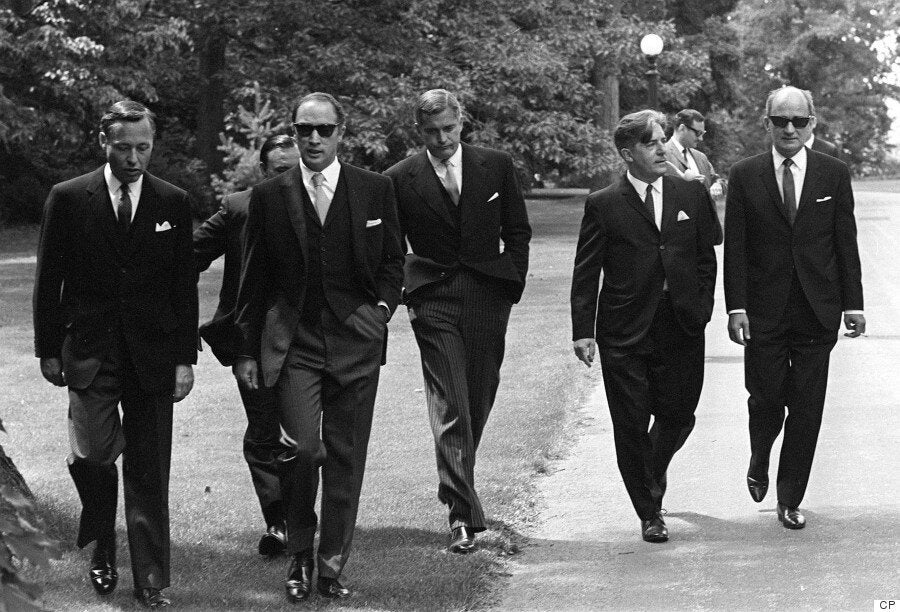 Well, thanks for reading. Take care of yourself. Give yourself some slack. We are living in historic times, and that is usually difficult.