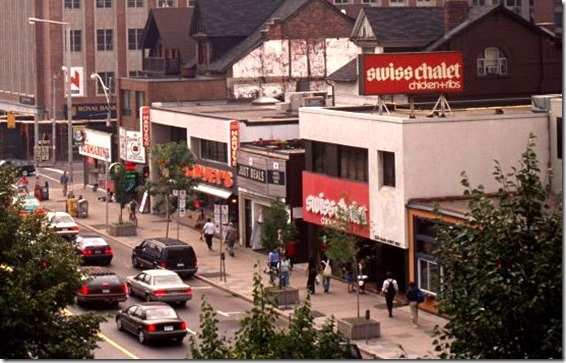 Can you be abandoned by a restaurant? If it is me, it's the Harvey's that was on Bloor in the 1980s.  I used to go there and get my favourite, a charbroiled chicken sandwich with mayo and pickle on the side. (Still my favourite thing to get at Harvey's). I loved sitting in the front window and look over U of T's Varsity Field.  When I was in my 20s I used to joke with my gf that when I was in my 60s I would still be coming here and eating the same sandwich and sitting in the same spot.
Times change and streets change, especially in Toronto. That area is now filled with condos. It's nice and I still like the area, but I miss that Harvey's. I'm much closer to my 60s than my 20s and I would love to be able to fulfill the need. Guess I will have to go to Okonomi House instead. 🙂
(Image via a link to this good piece on the History of Toronto's Swiss Chalet (also in the image above, from the blog Historic Toronto)
P.S. Okonomi House is the same as it was in the 1980s. I hope it never closes. Click on the link and order from it if you can.