It's been a weird winter. Most of the time I've gone outside and had to remind myself it was February, a month I associate with bone chilling cold and excessive snow. We did get some of the white stuff and some cold this last week, but I suspect it may not last long. It doesn't seem normal, but we live in a time of New Normals.
Part of what's driving the New Normal is — you guessed it —  COVID-19. Are we in a pandemic, are we not in a pandemic? I think the answer depends on where you live and who you are. For example, if you live in Nova Scotia, you see the province keeping good track of what is happening still with this dashboard. The government of Canada has good tracking too. Meanwhile in Ontario, you can still find the data, but this page feels like the provincial government has moved on or wants to move on. (I feel that way when I see them lump COVID-19 and Flu data together, as if to say: COVID-19 is just normal now, like the flu is normal).
This doesn't mean COVID-19 is going away: we are still seeing new variants occurring, for instance. But as we can see in things like the wastewater signal data, the disease is on something of a decline.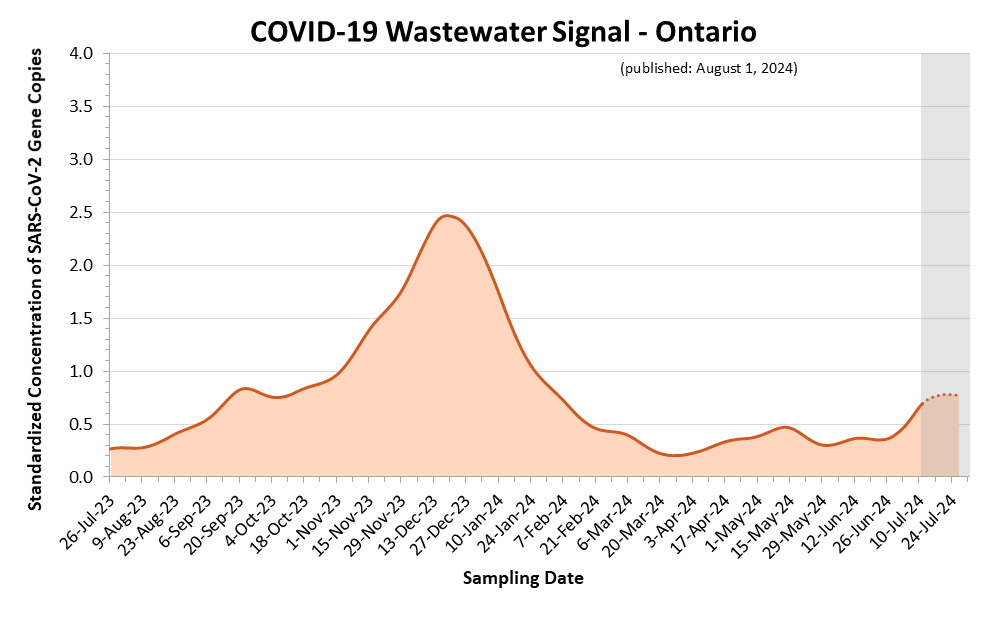 I'm not surprised: this wastewater signal data aligns with the hospitalization data I track each week too. For more data that confirms this, you can see a lot over at the Toronto Star, here.
So in the times of New Normal, COVID-19 is around, and it is a serious disease, especially if you get long COVID. (And yes, long COVID is a real thing that doctors are working hard on.) People are still dying from it. Yet despite all that, the behavior of most people is shifting towards the way things were before the pandemic.  We used to talk a lot about restaurants closing a year ago: that has really stopped since then. There's lots of discussion about forcing workers back to the office: let's see. There are still many of instances of people wearing masks, but it is more and more the exception, despite what some people may say on Twitter.
Speaking of masks, a badly communicated study from the Cochrane review came out and indicated that masks and other measures were not effective. I was glad to see that places like Vox took the time to show the problems with that study. That didn't stop hair brained pieces from convervative writers saying mask mandates don't work. Look, I don't know what to tell you if you think that. Washing your hands, masking, avoiding crowds and vaccinations are all things you can do to reduce the risk  from infectious diseases like COVID-19, influenza, and so much more.  If you want to live freer and incur greater risk of dying from a disease, by all means. But you are only kidding yourself if you think public health measures are ineffective.
I think you are also kidding yourself if you think people will/should continue to wear masks all the time and avoid crowds. Yes, it would cut down on infectious diseases significantly. I mean, the flu basically disappeared during the depth of the pandemic. But I just don't see that happening, because people are …well, people.
As for me, I have my own new Normal. (Likely you do too.) I engage with crowds now, but selectively (restaurants, yes; cinemas and performances, no). I've mostly abandoned shopping in stores: I'm an online shopper now. I still haven't got back to the gym: I need to figure out a better way to get in shape without getting diseases on the regularly from heavy breathing all about. I went into the office: I don't felt like I missed much, though I enjoyed talking to my manager face to face and I found reading easy on the subway.
I hope we can all find new and better Normals. Perhaps it could be the four day work week. Or a decline in inflation, finally, eventually (I hope). Or an end to the war in Ukraine (now a year old). I'd like to make some predictions on when we get to these new normals, but I am terrible at predicting, so I will leave that to the Times, which has them for 2023. (Let's check back next year to see how well they did.)
AI continues to be a hot topic, with countless articles being written about it each week. The opposite of hot is crypto, with the SEC in the US driving stakes through the hearts of whatever firms still exist. NFTs are also dying: a year ago they were so hot, now they are decidedly not, according to Google Trends. The latest loss they took was against Hermes.
Speaking of losers, Scott Adams continues to demonstrate he is one with his latest racist tirade that has caused newspapers to abandon his Dilbert cartoon. I don't know what happened to that guy, but then again who knows what happens to guys like him and Kanye and even Musk.
On a lighter note, there's been lots of talk last month about the owl Flaco who escaped from the Zoo in New York and who is now living apparently his best life in Central Park. Love that for him.
Celebrity news: The Grammy's also occurred this February. Fans of Beyonce were saying she was robbed…I dunno. She seems to be holding up fine. So too is Rihanna, who dazzled at the SuperBowl but also left her fans thinking that they might NEVER see another album from her, which got them upset. People were also upset about Marie Kondo, who has admitted she has slacked off since she had kids. I say: good for her. Also, people, we need to stop getting upset. For instance, Kareem Abdul Jabbar did not get upset when LeBron James passed his monumental scoring record. Be like Kareem.
Finally, it's easy to think winter is over, but we have a way to go, still. Try and get out and enjoy it while you can. I know that can be hard in parts of the country like Ottawa where the canal has not frozen over enough to skate on. Try and make the best of it. Dress warmly.
Soon the snowdrops will appear and spring will be following right behind. Stay well in these times of the New Normal.