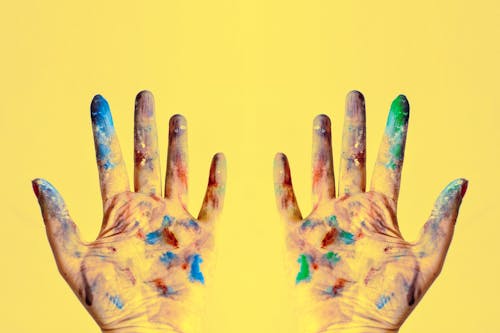 From this superb piece, Jerry Saltz: How to Be an Artist, come this:
Step One: You Are a Total Amateur
Lesson 1: Don't Be Embarrassed
Lesson 2: "Tell your own story and you will be interesting." — Louise Bourgeois
Lesson 3: Feel Free to Imitate
Lesson 4: Art Is Not About Understanding. Or Mastery. (It is about doing and experience)
Lesson 5: Work, Work, Work
Step Two: How to Actually Begin
Lesson 6: Start With a Pencil
Lesson 7: Develop Forms of Practice
Lesson 8: Now, Redefine Skill
Lesson 9: "Embed thought in material." — Roberta Smith
Lesson 10: Find Your Own Voice (then exaggerate it)
Lesson 11: Listen to the Crazy Voices in Your Head
Lesson 12: Know What You Hate
Lesson 13: Scavenge
Step Three: Learn How to Think Like an Artist
Lesson 14: Compare Cats and Dogs
Lesson 15: Understand That Art Is Not Just for Looking At
Lesson 16: Learn the Difference Between Subject Matter and Content
Lesson 17: See As Much As You Can
Lesson 18: All Art Is Identity Art!
Lesson 19: All Art Was Once Contemporary Art
Step Four: Enter the Art World
Lesson 20: Accept That You Will Likely Be Poor
Lesson 21: Define Success
Lesson 22: It Takes Only a Few People to Make a Career
Lesson 23: Learn to Write
Step Five: Survive the Art World
Lesson 24: Artists Must Be Vampires
Lesson 25: Learn to Deal With Rejection
Lesson 26: Make an Enemy of Envy
Lesson 27: Having a Family Is Fine
Step Six: Attain Galactic Brain
Lesson 28: What You Don't Like Is As Important As What You Do Like
Lesson 29: Art Is a Form of Knowing Yourself
Lesson 30: "Artists do not own the meaning of their work." — Roberta Smith
Lesson 31: All Art Is Subjective
Lesson 32: You Must Prize Vulnerability
Lesson 33: Be Delusional
But read the piece: the comments he provides are what gets to the heart of it.